Founded during the pandemic with a vision to contribute positively to Planet Earth, we are one of the first Indian manufacturers of these eco-friendly, paper-based protective packaging solutions alternative to plastic packaging.
EcoCushion Paper uses an innovative cushioning technology for safeguarding products, being a 100% recyclable and cost-effective alternative to other packaging materials. To add to that, our packaging is beautifully crafted to provide a superior unboxing experience for customers.
Did you know that as a result of the growing global e-commerce market, the plastic bubble wrap consumption is estimated to grow at 8% by 2023?
Did you know that a whopping 36% of global bubble wrap consumption comes from Asia-Pacific?
Did you know that packaging is the largest source of plastic pollution in the world, and by 2050 is it estimated that there will be more plastic than fish in our oceans? 
EcoCushion Paper is your first step towards being the change, as we endeavor to provide the perfect alternative for safely shipping your goods.

EcoCushion Paper Wrap is an environment friendly protective packaging with an innovative cushioning technology for safeguarding products. This is a recyclable and cost-effective alternative to plastic bubble wrap. To add to that, this beautifully crafted packaging provides superior unboxing experience for customers.
The unique honeycomb design of this paper allows you to stretch it to provide great cushioning and protection capabilities with minimum paper usage.
EcoCushion Paper Wrap is a superhero that helps you:
Save Money      : Lightness of the wrap, keeps shipping & storage cost low
Save Space       : Takes up to 80% less space than the traditional bulky plastic bubble wrap, when unstretched
Save Time         : Operationally efficient and saves time as it is fast & easy to use without the need of automation
Save the Earth : Fully compostable product, 100% recyclable & biodegradable
Key features of this game changing packaging alternative :
 The cushioning and protection controls damage during shipping/transport
 Provides accelerated packaging and a superior unboxing experience
 The unique cells interlock among itself, hence no tape needed
 Designed with continuous perforations, thereby enabling you to expand and use it at any desired length without having to use scissors. So, it is customizable to any sized product
 Perfect for shipping ceramics, pottery, electronics, jewelry, wine, glass bottles and other fragile items, and for value added decorative items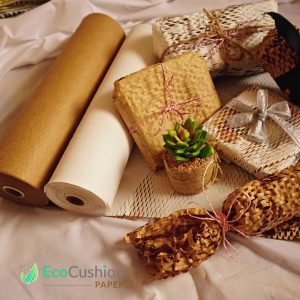 EcoCushion Paper Wrap aims to replace plastic bubble wrap or microfoam as a sustainable safety packaging solution to minimize carbon emissions in the world.
Customers and suppliers across industries are looking to reduce single-use plastics with eco-friendly alternatives, so we invite you to join hands with us in our efforts to create change in the packaging world.
Every small act makes a big difference towards a global cause!
EcoCushion Paper Fill is our eco-friendly box filler offering to safeguard packages in transit. This engineered box of paper fill has an easy-stretch technology which makes packaging faster and simpler. EcoCushion Paper Fill not only provides exceptional cushioning and protection, but is also cost-effective alternative to void fillers as it weighs lesser and saves space.
Benefits :
Faster and simpler packaging
 Superior Protection as it doesn't compress
 Interlocks with EcoCushion Wrap for added protection
 Weighs lesser and Saves Space
Lesser quantity required than other void fillers
EcoCushion Dispensers are especially designed for ease of use of EcoCushion Paper Wraps at packaging stations and for small businesses. These are sturdy and light-weight portable machines, which give the paper maximum stretching, thereby ensuring the best protection.  
The dispensers are very convenient to assemble and use, enabling faster and more efficient packaging. 

These are also one-time investments for packaging as we have ensured the best materials and quality to ensure it is long-lasting, thereby ensuring best-in-class quality in comparison to market alternatives made of wood/ etc.